Cruiser™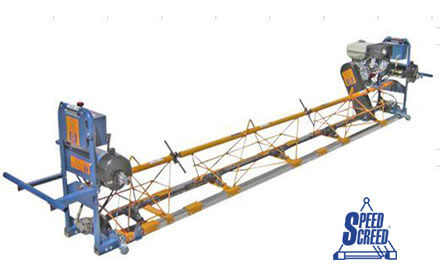 Our most popular model for all type of finishing projects
11 lbs per lineal ft
5 h.p. or 8 h.p. Honda Engine
2" Finishing Tubes
Widths up to 65 ft
Can be used on projects…
up to 60' in width
with a slab thickness of 6"-12"
a slump 3" or higher
Heavy Duty™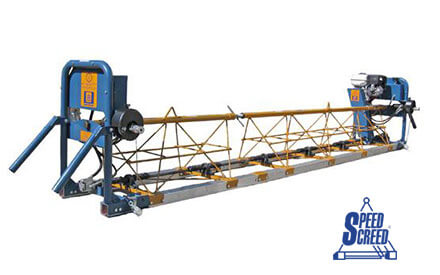 Designed for high production, low slump paving operations.
20 lbs per lineal ft
8 h.p. or 13 h.p. Honda Engine
3" Finishing Tubes
Widths up to 75 ft
Can be used on projects…
up to 60' in width
with a slab thickness of 6"-12"
a slump 3" or higher
Vibratory Finishers
For over 30 years, Metal Forms has been manufacturing concrete finishers. The Metal Forms Speed Screed® provides quality concrete finishing results to concrete contractors worldwide.
Speed Screed® offers two vibratory concrete finishing machine models: Heavy Duty™ and Cruiser™ to satisfy all concrete construction finishing job demands. Our Heavy Duty™ concrete finishing model is designed for high production, low slump paving operations. Our Cruiser™ model is our most popular concrete finisher for all types of finishing projects.
Our Vibratory Truss Speed Screed® feature reversible aluminum square tubes – giving you twice the life on the screed surfaces. Additionally, the Speed Screed® surfaces are easy to clean, saving you time and labor. Not only does the square finishing tube increase the life of the machine, but it eliminates the hard labor involved in manually removing concrete from angled blades.
The Speed Screed® Heavy Duty™ comes standard with an 8-horsepower Honda engine. For tougher jobs, you can upgrade to a direct-drive hydraulic system and a 13-horsepower Honda engine. Our hydraulic systems don't require extra belts or pulleys. Switching over to a hydraulic set-up is simple and can be done in the field.
The Speed Screed® Cruiser™ comes equipped with hand winches. On traditional screeds with hand winches, you'd need two people to operate the screed because the hand cranks are located on either side of the screed. Optional one-side hand winch Speed Screed® are available, allowing for one-person operation.