Concrete Finishing Screeds for Dealers
Metal Forms Concrete Finishing Products: A Better Finish For Customers, A Better Profit For Dealers.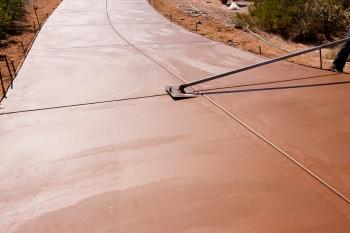 For over 30 years, Metal Forms has designed and manufactured high-quality, high-performance screeds. With our 100-plus years in the concrete finishing products industry, we knew there was room for improvement when it came to screeds, so we set about making better screeds.
Our Heavy Duty ® Concrete Speed Screed and Cruiser ® Concrete Speed Screed both offer contractors innovative time and labor saving features not found on screeds from other manufacturers. As a dealer, you know any tool or machinery that saves your customers time and labor is going to be a hot ticket.
Of course, offering a product that sells is one thing, but Metal Forms goes further with some of the highest margins in the industry. Our success, you see, is based almost entirely on your success. So, we do everything we can to ensure you are successful in selling our products.
Industry-Leading Dealer Support
To help you through all phases of a sale, Metal Forms provides knowledgeable, friendly and timely assistance. We routinely work with our dealers on promotions and special events to raise awareness of both your business and ours. We also publish a regular newsletter, which includes features on Metal Forms dealers throughout the country, and we are involved with a number of organizations that promote the interests of dealers.
Additionally, we offer a 3-tier Dealer Program, which offers participating members discounts on Metal Forms products, better terms, marketing and advertising support and more. No one does more to look after their dealers. Because with Metal Forms, you're more than a dealer--you're a partner.
Benefits of Being a Metal Forms Dealer:
100+ years of experience in the construction equipment industry and over 40 US and foreign patents.
Backed by an American company based in the Midwest
Deal direct with the manufacturer--no sales reps or agents bugging you
We are committed to superior customer service and prompt delivery to our dealers
More bottom-line profit to our dealers than our competitors offer
Contact the Metal Forms today for more information on how to become a Metal Forms Partner