Read Dealer Spotlights that showcase our current dealers capabilities and look into how your company can take advantage of great benefits when you Become a Platinum Dealer!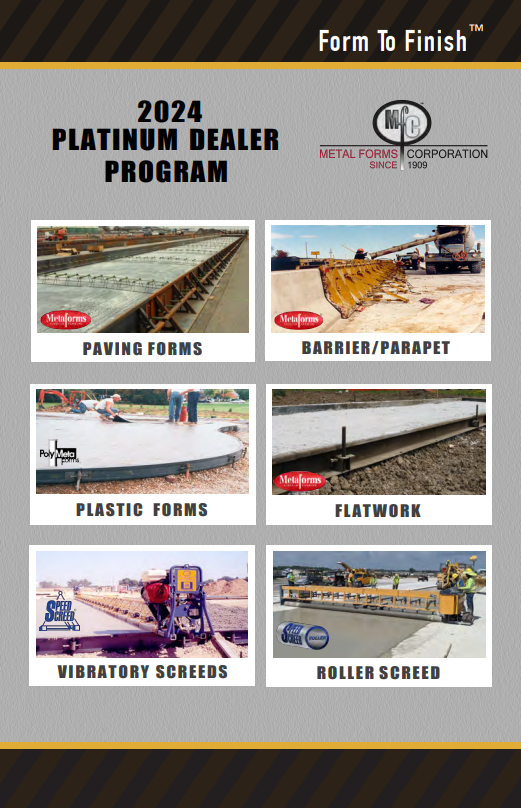 2024 PLATINUM DEALER PROGRAM
As an MFC Platinum Dealer, you will receive exclusive benefits designed to assist in your business' success.
(Paving, barrier and parapet forms are exempt from program.)
Contact our Dealer Managers to discuss if this program is right for you!
Office: 414-964-4550 or click CONTACT US to submit your inquiry.
BECOME A DEALER
Interested in learning how your company can become a MFC dealer? Want to know more about the benefits of becoming a dealer? Click on one of your interested product categories below to find out more. (Metal Forms Dealers have access to all product lines.)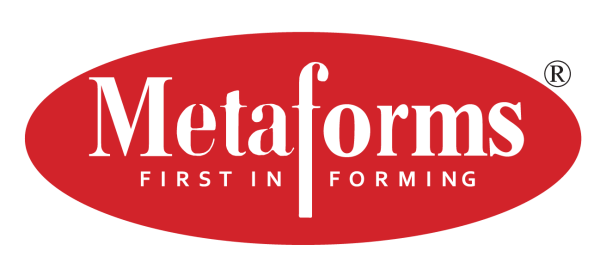 Steel Forms Slim-Line™, Base-Line™ & Flexible Radius Forms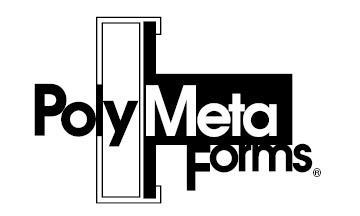 Poly Meta Forms® Straight and Flexible Radius Poly Forms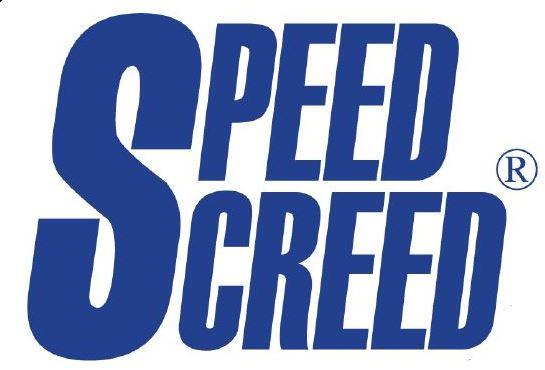 Concrete Finishers/Speed Screed® Heavy Duty™ and Cruiser™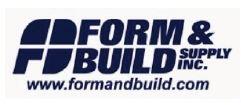 Form & Build Supply, Inc.
Oftentimes the name of a construction supply dealer can be misleading or, at the very least, nondescript. Nothing wrong with the name "Smith Distribution", but it doesn't immediately translate to an outlet for concrete contractor supplies. In the case of Form & Build Supply, Inc., it is a very appropriate name for a company that distributes MFC's concrete forming products.
Download PDF

Contractor's Paving Supply, Inc. (CPSI)
Contractor's Paving Supply, Inc. (CPSI) was founded on May 1, 2000 by President, Steve Albritton. He had been in the concrete paving supply industry for over 25 years...
Download PDF

Norquip Supply Ltd.
Norquip Supply Ltd. located in Fredericton, New Brunswick Canada got its start in 1991 as a family business. Prior to 1991, Dick Norrad was President of a dealership specializing in heavy construction equipment where his son, Mike, also worked....
Download PDF

"Commitment to Inventory & Knowledgeable Staff"
Established in 1976, Form Tech has specialized in supplying concrete form-work to contractors throughout the Midwest and Mid-Atlantic for more than 40 years.
Download PDF

There is little doubt that "What You See Is What You Get" with Wichita, Kansas based Coleman Materials...
Case in point... Coleman Materials website's "ABOUT US" Page begins with; #1 - You don't care about us #2 - We know that - The Webpage goes on to emphasize that customers ALWAYS come first, and that providing materials, when requested with great product knowledge and customer support is Coleman Materials stock in trade.
Download PDF

ProContractor Supply Inc. sells a wide variety of concrete construction products...
...for today's working professionals in the industry. With over 100 years of combined experience, the staff is able to sell a large product line, so much so that ProContractor Supply considers themselves a "Single Source Supplier" for all construction needs.
Download PDF

National Concrete Accessories histroy dates back to 1958...
...when the Acrow-Richmond Company was formed to manufacture high quality form hardware and accessories. 10 years later the namesake National Concrete Accessories was founded in Edmonton, Alberta as a distributor of quality products. Through superior customer service, NCA continued to expand in Western Canada while Acrow-Richmond continued to grow in Ontario. In 1985 the two companies merged to form Canada's first national distributor of concrete related products.
Download PDF

Eugene "Babe" Chaney Sr. founded Chaney Enterprises over forty years ago…
...with a small operation which has grown to be one of the leading suppliers of construction materials and supplies in the Mid-Atlantic. While operating from their state-of-the-art facilities, Chaney's 250+ employees are committed to 100% customer satisfaction.
In 1996, Chaney Enterprises/The Concrete Store, became a Metal Forms Corporation Dealer, and it has proven to be an excellent partnership ever since. As a Master Dealer, Chaney stocks Metal Forms products such as; steel forms, Poly Meta Forms® and Sterling® TOUGH GUY wheelbarrows. Priding their company as a "One-Stop-Shop" in superior quality and selection of more than 3,000 construction grade tools, supplies and materials, they also carry; decorative concrete supplies, masonry block, site prep and safety materials.
Download PDF

Screeds for Rent
BARNSCO, INC. is fully committed to the business of renting to concrete construction contractors. Here is the story about their rental fleet with emphasis on a very successful screed rental program.
Background
Headquartered in Dallas, Texas, MFC Master Dealer BARNSCO, INC. offers a complete line of concrete construction materials, products and equipment. "BARNSCO sells everything that goes in or on concrete" says Jeff Barns, President. "Our customers are concrete contractors of all sizes... from those that pour driveways to those that build highways."
Besides their concentration on concrete construction contractors, another specialty sets BARNSCO apart from their competitors: RENTAL PROGRAMS...
Download PDF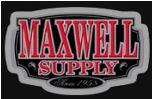 "SUPPLYING THE NEEDS OF CONSTRUCTION FROM START TO FINISH"...
MAXWELL SUPPLY
Oklahoma City - Tulsa - Lawton
...is the motto of Maxwell Supply Company of Oklahoma. Since 1958 the company has serviced Oklahoma City, Tulsa and Lawton contractors with quality materials and products for the construction industry. All of Maxwell Supply's 65 employees strive to provide their customers with an array of supplies for site-work to highway construction. Their highly professional and qualified personnel service the central, northeast and southwest areas of the State of Oklahoma with the highest level of service and largest inventory in their area.
Download PDF

Founded in 1907, Salmon Bay Sand & Gravel has evolved into one of the Northwest's largest supplier of construction materials.
Next time you are in Seattle and looking for a heavy-duty wheelbarrow, Salmon Bay Sand & Gravel is the place to go. You can't miss the Sterling prominently on display as you enter the dealership located in the heart of Seattle.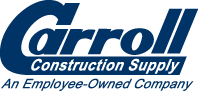 Carroll Construction Supply
A parts order placed in 2005 started the flow of business between Carroll Construction Supply and MFC. From that humble beginning, orders have continued on steady incline as Carroll expanded with new stores and territories.
Download PDF

DARRAGH
Darragh was founded in 1906, starting out by supplying cement in wooden kegs to the Arkansas State Capital building, offering public warehousing, construction materials, and grain holdings. Much of the focus in the 20th century was on the agriculture industry by providing supplies and equipment to family farms.
Download PDF