Metal Barrier Forms Help Build the Bridge to Success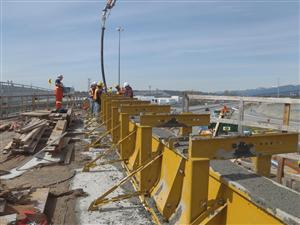 To complete work on the Highway 7 Rapid Bus Structure, PCL Constructors Westcoast Inc. needed a rugged, proven product capable of repeatable performance. Metal Forms' bridge barrier concrete forms provided the ideal solution.
The forms gave shape to barriers along the bridge deck and the approach ramps of the cast-in-place portal structure, one phase of the $2.3 million project spanning four months in Port Coquitlam, British Columbia. As part of the infrastructure work for the British Columbia (BC) Ministry of Transportation, the Highway 7 Rapid Bus Structure construction consisted of piles, cast-in-place concrete structures, lightweight fills, grading, paving and drainage. The bridge deck alone required 161 cubic meters of concrete.
The BC Ministry of Transportation uses the same barrier profiles for all their bridges, making Metal Forms' bridge barrier forms the equipment of choice to fabricate the barriers. Previously, wooden forms were used, but were much more labor-intensive to construct, and had a far shorter lifespan. Scott Adkins, Manager-Civil Projects, on the usefulness of the metal forms: "From our end, it makes sense to purchase them instead of having to make them each and every time."
Concrete Paving Forms Built for Bridge Parapets
The new concrete forms greatly reduced labor costs because they allowed less skilled workers to competently set them up, cutting back on the high expenses involved with more skilled laborers. This reduction in manpower immediately led to higher profits, especially since PCL Constructors Westcoast Inc. employs its own hourly workforce. According to Adkins, the material reusability quickly paid dividends, eroding the up-front cost of the metal forms: "After building barriers on three or four bridge projects, we could have bought new steel forms with the cost savings in labor and material.
British Columbia-based PCL Constructors Westcoast Inc. is part of the PCL family of companies, a group of independent construction companies working out of major offices in 27 locations across Canada, the United States and the Bahamas. In 1924, PCL Constructors Westcoast Inc. completed its first major project in British Columbia, the Bank of Montreal. Since that time, the company has expanded its outreach to include construction endeavors in the institutional, civil, commercial, healthcare and industrial sectors. It employs 200 full-time salaried professionals and an hourly field staff of almost 200 skilled laborers, carpenters and cement masons.
Bridge Barrier Concrete Paving Form Features:
The bridge barrier forms used for the bus structure project consistently provide uniform results that are not only structurally sound, but also aesthetically pleasing. Features include:
Full-height gussets to maximize rigidity and support
Adjustable top spacers to ensure consistent top thickness
Form aligner assembly that allows for horizontal and vertical form alignment
The standard forms come in 10-foot lengths, are made of 3/16" steel and are ribbed with five gussets. Holes punched in the top tread, base and face allow for additional structures or other implements to be attached to the forms. To ensure level placement of the bridge barrier concrete forms, adjustable moment arms were used to provide positive form alignment.
The concrete paving forms purchased from Richform Construction Supply will provide PCL Constructors Westcoast Inc. an easy-to-set-up solution for years to come, and the partnership formed played a key role in the timely and cost-effective completion of the Highway 7 Rapid Bus Structure project.