Airport Terminal Construction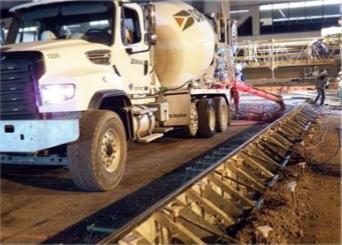 RGG United Contractors, Inc. (RGG) completed a major terminal gate repaving project four months ahead of schedule at Phoenix Sky Harbor International Airport using reversible metal paving forms that are usable for different concrete depths. The project was part of a $15.4 million contract to repave areas where Southwest Airlines aircraft taxi to and from the gates at Terminal 4, the airport's busiest terminal. At the time of the award, FAA Administrator Michael Huerta highlighted the importance of the project by pointing out that deteriorating pavement can produce debris that damages aircraft and engines.
The contract included removal and replacement of approximately 94,000 sq. yd. of.18 to 22.5-inch concrete pavement, totaling 51,500 cu. yd. of concrete. According to Civil Engineer and Operations Manager John Kliethermes, of RGG, the job was finished four months ahead of schedule, despite severe rain and flooding in the Phoenix area. For the project, RGG selected steel paving forms from Metal Forms Corporation (MFC), of Milwaukee. The contractor ordered 160 DUAL Paving Forms in two different sizes, totaling more than 1,600 lineal feet. All are 10 feet in length, made of ¼ inch steel, and designed so they can be used for two different pavement depths. Some of the forms can be used for either 18 inch or 22.5 inch pavement, while others can be used for either 18 inch or 16 inch depths. This cost-effective feature provides greater flexibility for use on this and future jobs.
Kliethermes says that a majority of the concrete on this job was 18 inch thick, with thickened sections to 22.5 inches where load transfer dowels were not used. He explains that the Southwest Airlines fleet is composed entirely of Boeing 737 models, which constitute Group 5 design and require a thickness of 18 inches.
The concrete mix was designed to lower the potential for alkali-silica reactivity (ASR) while still achieving 650 psi flexural. Kliethermes reports that the concrete contained 30 percent fly ash due to the highest potentially reactive aggregates in the nation being from the Salt River near Phoenix. He says most other sites are closer to 10 to 15 percent by comparison.
The forms all incorporate angled stake pockets that allow them to be staked in either direction. Gussetstyle end connections facilitate bolting the forms together securely. Although the forms were made with a two-inch top tread to allow a paver to ride along the top if desired, the paver used on this project was equipped with a wire guide system and an internal concrete vibration system, as well as rubber-tired wheels that straddle the forms.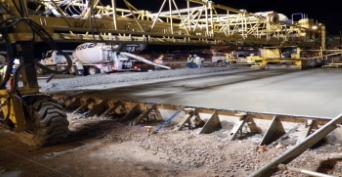 Forms were set in 40-foot wide lanes, with the paver traveling outside the forms in the adjacent lanes. Transit mixers delivered concrete from an on-site batch plant to both sides within the forms. On one of the largest pours, the contractor completed more than 700 lineal feet of a 40-foot wide lane in a single evening. According to Kliethermes, this amounted to about 120 truckloads of concrete. Most concrete placement and finishing operations were done at night when temperatures were cooler, for better working conditions and proper concrete curing, as well as minimal impact on airport operations. Kliethermes says he was pleased with the quality and accuracy of the forms. "We insisted that things be within a 1/16-inch tolerance, and. they were," he explains. In addition to the forms, MFC provided a Heavy Duty Truss Screed for the project.
Kliethermes says it was used mainly for backup on this project He explains, "If our paver broke down and we still needed to finish a 40-foot wide lane, the screed was used as our contingency plan but will be used on future jobs as well.
Phoenix Sky Harbor International Airport celebrated its 75th Anniversary in 2010 and has been owned and operated by the City of Phoenix since 1935. RGG, based in Glendale, Arizona, was founded in 2005 and specializes in providing high-quality concrete paving on large projects in the Southwest.
Established in 1909, MFC has progressed to be a leading and respected manufacturer and supplier of forms, finishing machines and material handling equipment for the concrete construction industry.