PAVING FORMS KEEP APRON RECONSTRUCTION IN TOLERANCE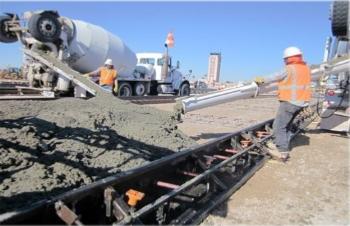 Granite Construction is using metal paving forms with built-in dowel holders to maintain productivity and meet tight tolerances on a multi-year terminal apron rehabilitation project at Tucson International Airport. It will include the placement of approximately 137,755 sq. yd. of 16 in. Portland cement concrete pavement (PCCP), 24,194 sq. yd. of 9 in. PCCP, and 22, 495 sq. yd. of 6-1/2 in. PCCP. It also covers demolition of approximately 173,397 sq. yd. and a wide range of other upgrades to such areas as storm drainage, pavement markings, fueling system, modification of the 400 Hz power system, new blast walls and sanitary sewer.
High among the priorities for the paving project is the need to hold close tolerances. Project Superintendent Aaron Tipton explains, "We're pouring in 20-foot lanes to meet tight tolerances. The corners of every 20 x 20 foot panel have to meet plan elevations to specs within four hundredths." To hold these tolerances, Granite selected steel paving forms from Metal Forms Corporation (MFC), of Milwaukee. The contractor is using a total of 571 DUAL Paving Forms in five different sizes, totaling more than 5,700 lineal feet. All are 10 ft. in length and designed so they can be used for two different pavement depths. For example, some of the forms used for 16 in. deep areas also can be used for 18 in. pavement. While, on some of the forms, the second dimensions will not be used on this project, this feature is cost-effective because it provides greater flexibility for use on future jobs. In many instances, both sides of the forms will be utilized.
Several sizes of forms are being used because pavement thickness varies depending on the loading each area must accommodate. Areas that support aircraft traffic are 16 in. thick, while areas that are closer to the terminal and only see light vehicle traffic are 9 in. thick. Adjacent to the building, where loading is the lightest, the pavement has to be only 6-1/2 in. thick. Manholes, electrical boxes, fuel hydrant systems and other services generally are in the 16 in. thick areas.
The forms are set in multiple 20-foot wide lanes so the paver can ride atop them and pave every other lane. Transit mixers deliver concrete from both sides alongside the forms. After the forms are pulled, the machine then travels on the new concrete to pave the lanes in between.
The project requires a high degree of planning and coordination to minimize impact on airport operations, yet maximize productivity and efficiency. Tipton explains, "We started in work zones one and ten, on opposite sides of the terminal. The project is phased in a manner that enables our crews to reconstruct pavements at two gates on each concourse simultaneously.
This allows our grading crews to work on this side first (Work Zone 1) and shift to the opposite work zone while we are setting forms on this side." He says this approach helps balance labor needs and keep employees' hours steady while also making it easier to manage equipment utilization.
Once grading is complete and the forms are set, a crew may pour as many as 800 yards on a typical day. Field Engineer Bill Carney says the project uses a standard 650 psi flexural mix (FAA P-501 Specification) to handle the aircraft loading and traffic.
Dowel bars along both sides tie the lanes together. MFC provided dowel bar supports to hold the dowel bars level and ensure that they are aligned properly. Grommets, placed in the face of the forms and combined with the dowel bar braces, secure the bars in place during the pouring operation. According to Carney, FAA specifications don't allow the use of mechanically placed dowels, as is often done with large paving machines. He says, "Using the forms with holes and grommets to hold the dowels in place allows us to get them set right where we need them prior to pouring. Placing the dowels before the pour relieves us of having to drill into the poured concrete." He also points out that the use of form-set dowels provides high cost savings, potentially as much as $500,000, when compared to drilling and setting the dowels with epoxy after pouring. It is much faster than drilling and provides scheduling benefits as well.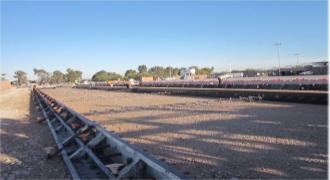 Because the aggregate base consists of recycled pavement that was crushed and screened to 1-1/2 in., Granite added screw jacks and turnbuckles that help align the forms to meet the tight .04 ft. pavement specification without using shims.
Additional modifications include tabs that allow the forms to be bolted together at the joints and provide a more rigid connection.
Form stakes are driven mechanically using a jackhammer and a special end fitting. To facilitate pulling the forms straight back when the concrete is cured, Granite devised an attachment for a mini-excavator. Carney says, "We couldn't use a forklift because there wasn't enough room to maneuver with the length of the panels. We made an attachment that just slips underneath the form, and we can pull it straight back, turn the mini-excavator around and place the form at 90 degrees." A forklift can then come down the lane and pick up the forms.
The collaboration between Granite Construction and MFC on this project is but the most recent example of business between the two historic companies. The history of Granite can be traced back to California Construction License #89 issued in 1922. Since that time, Granite has grown to be one of the largest diversified heavy civil contractors and construction material producers in the U.S.A. Established in 1909, MFC has progressed to be a leading and respected manufacturer and supplier of forms, finishing machines and material handling equipment for the concrete construction industry.